Patron
---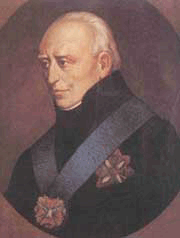 Our school is named Stanisław Staszic School. In Polish: "Liceum Ogólnokształcące (grammar school, or secondary comprehensive school) im. Stanisława Staszica w Trzciance" (hence the webpage name: LO Trzcianka).

Stanisław Staszic was born in November 1755 in Piła, to a wealthy family. His father was a mayor of Piła. Since childhood he was prepared for priesthood and that's why he received scrupulous education. After holy orders he went to France to study at university in Paris, where he met a lot of famous people, e.g. Brossot, d'Aubenton, Buffon. He came back to Poland in 1781 and took up Andrzej Zamoyski's sons' education.
Staszic was interested in politics and social problems. He wanted to raise the peasants' and middle-class people's standards of living. In 1788 a four-year-long Polish parliament started to work. Stanisław Staszic was a member of the Patriotic Party, which demanded reforms. Besides, thanks to his influence, Poland received the first constitution: "The 3rd May Constitution". During that time he published some brochures, like "Admonitions for Poland", where he criticized aristocracy's egoism and showed tragical peasants' situation.
After the second partition of Poland, Stanisław Staszic went to Vienna and he studied geology. He also explored the Alps and the Apennines. Then he came back to our country, to do the research of the Tatra Mountains. On the basis of that exploration he worked out the state of Polish economy, resources, minerals and ores. Since then he has been called "the father of Polish statistics".
Staszic engaged in development of education and science (he was the president of Society of Science's Friends). He founded many schools, for example juridical, medical, agronomical or teacher's college.
Stanisław Staszic died in January 1826. He was buried in Warsaw. He gave all his wealth to charity, especially for education, science and medical care. Since 27.01.1966 this Polish writer, scientist and politician is our school's patron. has been the patron of our school.
---