Australia
---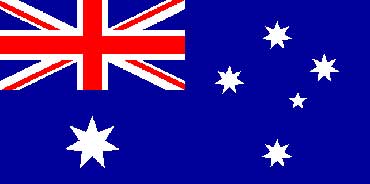 Flag description:
blue with the flag of the UK in the upper hoist-side quadrant and a large seven-pointed star in the lower hoist-side quadrant known as the Commonwealth Star, representing the federation of the colonies of Australia in 1901; the star depicts one point for each of the six original states and one representing all of Australia's internal and external territories; the remaining half is a representation of the Southern Cross constellation in white with one small five-pointed star and four larger, seven-pointed stars
---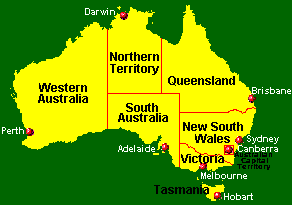 Administrative divisions:
6 states and 2 territories; Australian Capital Territory, New South Wales, Northern Territory, Queensland, South Australia, Tasmania, Victoria, Western Australia
Dependent areas:
Ashmore and Cartier Islands, Christmas Island, Cocos (Keeling) Islands, Coral Sea Islands, Heard Island and McDonald Islands, Norfolk Island
---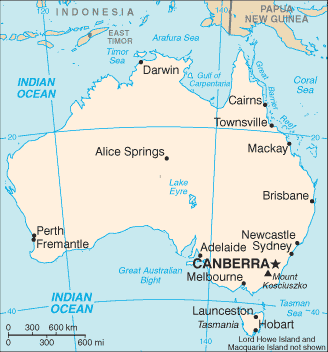 History
Aboriginal settlers arrived on the continent from Southeast Asia about 40,000 years before the first Europeans began exploration in the 17th century. No formal territorial claims were made until 1770, when Capt. James COOK took possession in the name of Great Britain. Six colonies were created in the late 18th and 19th centuries; they federated and became the Commonwealth of Australia in 1901. The new country took advantage of its natural resources to rapidly develop its agricultural and manufacturing industries and to make a major contribution to the British effort in World Wars I and II. In recent decades, Australia has transformed itself into an internationally competitive, advanced market economy. Long-term concerns include pollution, particularly depletion of the ozone layer, and management and conservation of coastal areas, especially the Great Barrier Reef. A referendum to change Australia's status, from a commonwealth headed by the British monarch to a republic, was defeated in 1999.
---
Population:
19,913,144 (July 2004 est.)
Capital: Canberra
---